Bergen County Secret Garden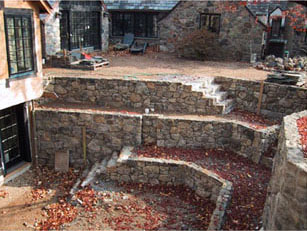 THE PROBLEM
Because of zoning limitations and respect for the architectural style of the original house, the architect chose to expand the English-style country home in Bergen County down into the basement, instead of out or up. The need for light and air to reach into the new living space of the former basement and the need to connect multiple living levels inside and out required a creative and bold solution: a secret, sunken garden.
THE SOLUTION
The design created a multilevel transition from the below-ground family room to a first-floor master bedroom. It provided outdoor living spaces and comfortable and creative access to six rooms from multiple levels and doorways. In addition, it saved mature trees.
The design specified dry-laid stone walls to create planters and stairs that seamlessly transitioned from a massive concrete retaining wall that was covered in a matching stone veneer to the backyard and patio. Predominantly native plants soften the stone walls to create a secret, sunken, nested garden within a garden—very private but very light.
Essex County Moving Meditation Garden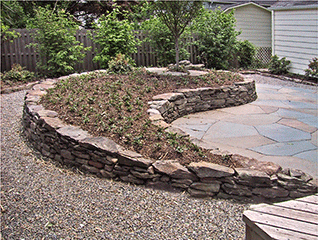 THE PROBLEM
The homeowner, a devoted tai chi practitioner, rarely went into his backyard. It was pretty to look at but it was not very useful.
THE SOLUTION
Carlton Design took a second look at the underutilized suburban backyard and designed a yin-yang-shaped patio. The patio was built from a naturally irregular bluestone resting on the inside curve of a gently rising natural stone wall planter.
The homeowner now has a tranquil setting in which to practice tai chi. Additionally, the patio also serves as a small and intimate outdoor room for entertaining guests.