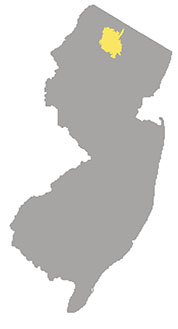 Strategic Site Conservation in the Highlands
Early open space acquisitions in New Jersey focused on preserving the most important ecological sites and creating self-contained wildlife management areas or parks. Carlton Design conceived of the first historical conservation easement acquisition by the State of New Jersey from the City of Newark in West Milford in its watershed.
The easement preserved the land containing Cedar Pond and Uttertown Bog, historically identified as the most environmentally sensitive area in the city's watershed land holdings. Carlton Design then planned regional greenways for the next phase of easements.
Open Space Planning and Greenway Acquisitions
Open space planning evolved to value greenways, the linear connections that provide linear recreation opportunities and migration paths for wildlife. Greenway acquisition is the most challenging since there are often few available tracts of land that preserve a greenway. The completion of the greenway can be expensive since there may be no alternatives to key pieces of land in the greenway.
Carlton Design planned, negotiated, and helped execute the next set of state acquisitions from Newark. This provided a rare opportunity to link large state open space holdings with a greenway managed by a single owner. The easements connected Wawayanda State Park and Farny State Park, as well as the Hamburg Mountain Wildlife Management Area, in perpetuity. After the greenway connections were made, the state and Carlton Design began to plan for the effects of climate change on forest health.
Large Scale Conservation and Resilience
Open space managers and conservationists at the beginning of the 21st century increasingly focused on climate change and pollution, which affected open space planning and open space management. They were concerned with developing ecological resiliency to mitigate the large landscape scale changes caused by changes in temperature and groundwater recharge.
Carlton Design negotiated the last easement acquisitions with the state as part of the Forest Legacy Program, as all parties recognized that forest stewardship planning needed to replace benign neglect in managing large tracts of land. The easements created a preserved tract of more than 33,000 acres in the New Jersey Highlands, the first step in forest stewardship planning that will create a resilient, regional landscape for generations to come.